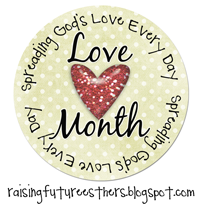 Today was one of those days.......but I'm not gonna talk about that.
Instead, I wanted to share something with you that our family is doing that is truly loving as a verb.
For a long time now, Hubs and I have discussed sponsoring a child through Compassion International. During the last big snow we had, I gathered the girls around the computer and we set out to choose a kid to sponsor. I explained to them about Compassion International, what they do. What we are setting out to do and why we are doing it. We began to get excited!
We could choose age range, gender, and country. So, I allowed each girl to choose one thing.
Allie chose the age range (6-9), Maggie chose the gender (girl -- but she specifically wanted a girl who was both from a country that deals with aids and who had been waiting for a sponsor for a long time), Lillie chose the country (Bolivia).
I punched in our search parameters ----and there wasn't a child who met all of our criteria.
SO, Lillie chose another country (Uganda). We tried again, and we found Hellen.
We were SOOOO excited when our packet introducing our child came in the mail. The girls were very excited! I read all about Hellen and her family and the country of Uganda.
We have been working on our letters and finding a picture of our family to send to Hellen. And, while I am so happy to be helping this child have food to eat and clothes to wear, I am even more excited about my girls beginning a friendship with someone across the world. A friendship that stands to teach my girls so much......
SO incredibly much about loving God's people. And, basically just about God's people who live in a place and in a way that they can't even begin to understand.
What about you? Do you sponsor a child?
If you are interested, go
here
!!!!
in HIM-