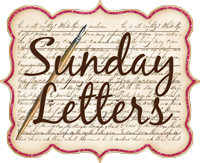 Dear Girls,

This week has been a rough one, hasn't it? The three of you have been fussing and fighting and generally not getting along. All three of you have had a hard time listening, obeying and having a good attitude. BUT, it's a new week --- and God's mercies are new every morning -- so, let's ALL make this a better week! I also pray that you all know that no matter what is happening -- I ALWAYS love you. ALWAYS. My love for you will never end!!!

There were also bright spots in our week, too! Talking about God's love for you and how we can love others with our actions has been great. You guys have done kind things for friends and for one another this week. Keep it up!!!!

You guys gave me a scare yesterday. The four of you were outside playing in the yard and suddenly there was a knock at the front door. I open to door to find two older gentlemen standing there and the four of you? Ya'll were running around playing like nothing was amiss. The men were here to evangelize, and after I spoke with them for a moment, they turned to go. As I watched them leave, and watched the four of you running around as if no one out of the ordinary was around, it really scared me. I couldn't believe that strangers had walked up our driveway, to our door, talked to me for a moment, and walked back to their van --and it didn't even phase not one of you. I talked to each one of you after that about strangers. I told you that sometimes strangers are harmless - like these two gentlemen were , but sometimes they aren't. I also told you that whenever anyone comes into our yard, whether we know them or not, it's a good idea for you to come in and tell me. You have all agreed (except for your brother, who really didn't understand what I was talking about). I hope that you will, because that was enough of a scare to make this Mama not let you go outside with out me ever. again.

I love you!!!

Mom

~~~~~~~~~~~~~~~~~~~~~~~~~~~~~~~~~~~~~~~~~~~~~~~~~~~~~~~~~~~~~~~

Dear Brady,

One of the sweetest things you have started doing in the past two weeks is kissing the mole on my face. You have long been interested in the dark freckle beside my nose. It has been the ritual for you to ask, "wat dat?" I always respond, "a mole" to which you point to the exact spot beside your nose and say, "I got moe", and I always say, "You don't have a mole". You think this is a very funny conversation. Last week one day as you were leaving for school, I bent down and asked for a kiss. You said, "I kees you moe!" and ever since, whenever you think of it, that is where you plant a kiss on my face.

i love you, sweet boy!

Mommy

~~~~~~~~~~~~~~~~~~~~~~~~~~~~~~~~~~~~~~~~~~~~~~~~~~~~~~~~~~~~~

Dear Ken,

It's been a rough week hasn't it? Kids fussing and fighting and not listening causes us to have a stressed relationship, too. I'm sorry for that.
I also owe you an apology for putting so much of my time and energy into the rest of the world instead of making you a priority as I should. I promise I am going to make you my top priority!!!!

I love you!!!!

Mindy



*******I hope that someday my family reads these letters and that they feel loved!!!********

~~~~~~~~~~~~~~~~~~~~~~~~~~~~~~~~~~~~~~~~~~~~~~~~~~~~~~~~~~~~~~~~~~~~
Finally, my sweet friend, Deidre, has added a Mr. Linky to her Sunday Letters.....wanna write your own letters? Go on over to For Such A Time As This and link up!!!!